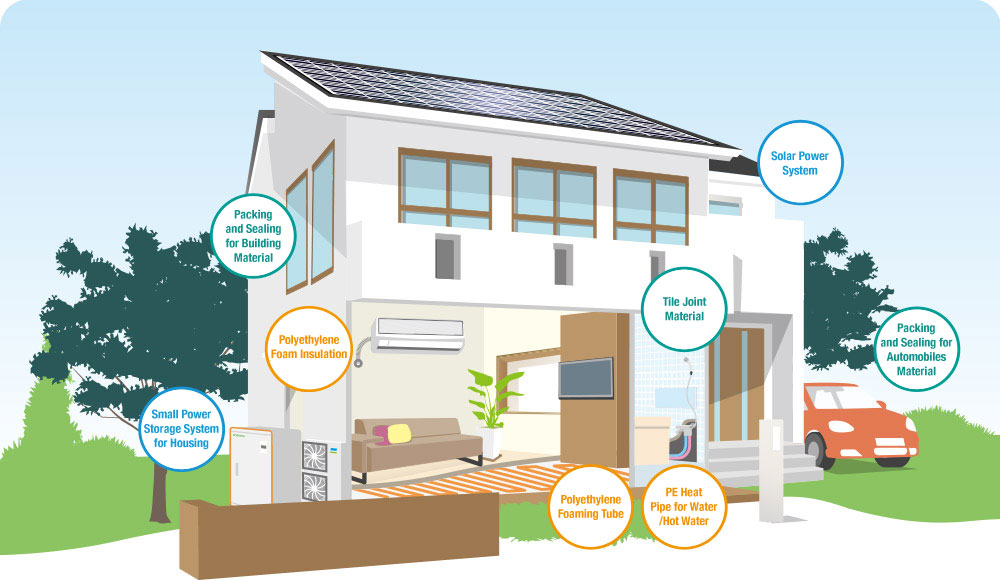 Products Line Up
Insulated Copper Tubes

Production System had created by original idea and technology including Manufacturing PE products from raw material, Copper Pipe Instertion by original machine, Packing system.
This system keep continue manufacturing high quality products with right delivery time for customers satisfy.
Ability to produce variety of length from 2.5Meters to 30 meter products in Japan and 50meters for over seas Market.
The purpose of developied those products are reducing the time for constructers and wastage of resources greatly contribute to cost reduction.

Pre-Insulated Copper Tubes for Refrigerant(Pair Tube)

Pair Coils used for Piping construction. Length are from 10,20·30 and 50m winding, It's adjastable according to the installing situation.

Pre-Insulated Copper Tubes for Refrigerant(Single Tube)

Single Coils used for Piping construction. Length are from 10,20·30 and 50m winding, It's adjastable according to the installing situation.

Flare Piping Set

As one of the products to set Air conditioner construction, it is essential for reducing construction time.

Straight Insulated Copper Pipe for Refrigerant (4m straight pipe)

Insutaled Copper Tube for large Refrigerant. This products demand as package Air Conditioners such as Large Building Constraction.

Forming Tubes

We Produce foaming products that uses Butane Gas which is Environmentally friendly, we have been producing Large number of quantities with high quality products in Japan.
The most of products are produced by our own production equipment and management systems that highly evaluated by customers including constant quality, delivery time, and cometitive prices.

Polyethylene Foaming Tube

Utilizes 120℃ heat resistant features, mainly used for the interior of coated copper tubes, and cushioning material for construction.

Polyethylene Foam Insulation

Insulations Pipes are producing by Two department Forming Department and Tubing department.
Form Insulation have been manufacturing in Forming Department and Heat Wealding at the Tubing department to make Insualtion.
We have valiety of Sizes, Insulation Colors and High Quality products for Cutomer satisfaction.
These are our original products that produced by Chuo Bussan.

Polyethylene Pipe for Insulated Copper Tubes

Two Layer Coated Type PE-Insulation with Copper Pipe

PE Heat Pipe for Water/Hot Water

Our Thermal Insulation are confidence for Heat, Resistance for Cold Heat and Viberation and Coating Cross-linked Polyethylene pipe · Metal Reinforced polyethylene pipe
It hss long length and lightweight, flexible and rich in hygienic features, it is a mainstream of the future water supply for Water/Hot water supply piping.

PE Heat Pipe for Water/Hot Water

Blue piping is for Water, Red pipe is for hot Water Supply. It is excellent in both cold and heat resistance, and it has various of features suitable for Water Hot/Cold water piping work.

PE Heat Pipe for Water/Hot Water

We are able to offer a wide range of variety products that according to various uses.

Foaming Sheet

Production of Chemical Cross-Linked foamed polyethylene sheet which has Propety of Heat Resistance Insulation and Cushoned.
We offer products according to various sizes, colors, dimensions, such as heat resistance, flame retardant, weather resistant products.

Foamed Polyethylene Sheet

Propety of Heat Resistance Insulation and Cushoned.

Adhension Department

We have production systems that slices raw urethane foam and various insulation materials coastantly and adhesive coating, cutting, punching and packing.
Our high quality products have been highly trusted from customers that various aspects, flexibility and various production produced , and also the reliability of the delivery time.

Processing department

We pay more attention to final process until the delivery. In this department, Such as cutting, Pressing and Slitting to the finished products with adhesive lines.
We also take orders from small quantities, Please do not hesitate to contact us.

Packing and Sealing for Building Material

Excellent Performance in both buffering and vibration isolation is demonstrated.

Packing and Sealing for Automobiles Material

Packing and Sealing Material used for automobile. We will produce reliable standards in different areas of Automobiles where it required.

Packing and Sealing Material for Home appliances

Packing and Sealing Material used for home appliances. We support a wide variety of products with precise and advanced production technology.

Eco-Related Products

Development and sales of storage battery systems from home to industrial used, Research and Development of HEMS (Home Energy Management System)
We provide various solutions for solar power generation system from experience and support yor Sales as Wholesaler.

Small Power Storage System for Housing

Small scale lithium ion storage system for home and shops from 6 kWh to 12 kWh.

Power storage systems for Public and Industrial uses

Large-Scale Lithium-ion Storage System for Public facilities and factories from size of 16 kWh to 72 kWh.

Solar power system

In addition to the use of facilities such as houses, shops, offices, schools, public facilities, We have variety of Modules available for facilities including Houses, Shops, Offices, Schools and Public Facilities.

LED Street Lights by Solar

It's an independent power supply system, and Next Generation's street lights with secure lightling.